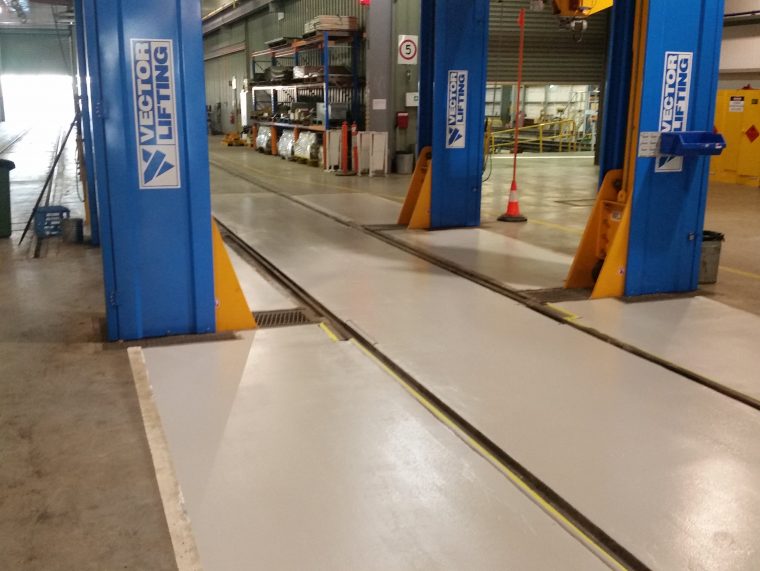 SERVICE OVERVIEW
Your Epoxy Flooring options
We provide total solutions to concrete epoxy flooring Melbourne, preparation and treatment.
Additionally, Epoxy Flooring, commonly called Epoxy Resin, is a thermosetting plastic. It is poured over existing concrete floors and used for commercial and industrial properties. As it provides a sealed heavy duty surface capable of withstanding high foot traffic, chemicals spill and truck/forklifts. 
We fabricate the epoxy by combining a base resin and a hardener. After mixing these two elements together, it creates a hardened resin. Our experts can add and incorporate a non slip-element in the mix.
The concrete epoxy flooring options we offer, will enhance the look of your warehouse, factory, assembly lines or investment, while preserving the safety of all workers. We can apply resins in both outsides and inside areas.
In fact, the secret to a top quality epoxy resin is the attention to detail and preparation of the floors. Our experienced team will pressure clean your concrete areas before applying epoxy. Therefore, we ensure the concrete epoxy coating services we provide, are top quality and will last for a long time. The most important part when applying resin is the preparation and that is why we are specialists. We will leave your floors shiny and in pristine conditions.
Polished Concrete or concrete epoxy coating ?
Considered environmentally friendly and a very cost-effective option for flooring solutions.
Polishing machines are used to grind the existing surface to create a smooth finish.
NO scratch, peels over the surface finished
Enhance area looks by increasing light reflectivity.
Hardens the existing concrete surface
Concrete Floor Epoxy Coating:
Most common and oldest solution found in the commercial flooring industry.
Mix of hardener and resin to create the concrete epoxy coating.
Stronger, and more resistant surface, non slippery.
Enhance property looks by increasing ligh reflectivity way more than polished concrete
Safer in case of chemicals spills, protect your floors and increase its overall life.
No cracks, scratches, peels on finished surface.
Water and chemicals resistant makes it easy to clean.
In others terms, both solutions have their advantages and benefits. however, at Alternative, we recommend our concrete epoxy coating and epoxy flooring options for any properties (commercial or not). Let's dive into a deep comparison of both flooring solutions so you can make an informed solution of which solution to go for.
1. Flooring Durability & Robustness
Genuinely speaking, our epoxy flooring Melbourne is less resistant to very heavy machine traffic and is more subject to damages. Concrete epoxy coating solutions aren't withstanding tear,wear and pressure as well.
2. Floor Aesthetics
Both solutions are very eye catching and visually attractive. Concrete floor epoxy coating have a better reflective over natural light and will enhance the overall looks of your property. Additionally, if maintained properly and regularly, it will remain the same for a long time.
3. Floor Longevity
Epoxy flooring options are very hard, abrasion-resistant, and have high-impact strength. Due to the excellent properties of a concrete epoxy coating. It is better suited to residential case to residential floors as its lifespan can last for many years to come. On industrial and commercial projects, concrete epoxy coating can be subject to damage due to high traffic (vehicles and human) but is a better fit for chemicals spills, accidents, …
4. Maintenance & Cleaning
Both solutions can be cleaned with water for easy maintenance with an optional use of detergents to remove dust and debris. Moreover, it can become tricky after many years when polished concrete shows signs of wears. Concrete floor epoxy coating and the epoxy flooring Melbourne solutions we are offering are very resistant to chemicals, which is one of the main reason epoxy is a preferred choice.As a conclusion, both solutions whether polishing or concrete epoxy coating have their benefits, disadvantages and features. It really depends of the general application and the use you will make of the floors. It is always best to get in touch with experts to discuss your project, in order to ensure you will get a smooth, durable and absolute higher quality solutions. When looking for such services and starting a contract, you should always ask pertinent questions, so we can guide you towards the most appropriate solution. At Alternative Grinding Solutions, we have the experience, portfolio and expertise to work on both  Concrete Polished solution and Concrete Floor Epoxy Coating.
So why not calling us today to start and discuss about your project?
Why Choosing Alternative grinding for your Concrete floor Epoxy coating?
Hard Wearing – Can resist very high machinery traffic
Smooth flat finish – Shiny, Glossy and Non-Sliperry in your Work environment
Easy to Clean and maintain

No Scratches, No Dents – Hard and thick layer making it almost impossible to dint

Very Affordable and cost-effective solutions to protect your industry floors and workers
Hygienic Surface, Moisture Resistant & Chemical, Oils, Stain resistant
Decorative – Shiny, Glossy look enhancing your floors.
Available in different Colors tones for every epoxy flooring options.
Market LEader in CONCRETE  floor Epoxy Coating?
To find out more about our concrete floor epoxy coating would work for your property areas, contact us today for a non-obligatory free quote. As a result, our experienced consultants can help you explore whether the epoxy flooring options available are appropriate for your current project. We are always on time, we will get the job done correctly the first time. At Alternative Grinding, we take pride in being the most trustworthy and friendly company you will find for your concrete floor epoxy coating and epoxy flooring Melbourne solutions.
We know every business and industry is different, and do not wish to damage the structural integrity of your floors. In addition, our team will help you installing the right epoxy flooring options in accordance with your requirements!
We service all suburbs with our epoxy flooring Melbourne solutions
Current : Epoxy Flooring Options, Concrete Epoxy Coating