SERVICE OVERVIEW
Concrete Sealing Melbourne services
Our Concrete sealing Melbourne services, commonly called Grind And Seal is the industry term for concrete which has a clear coating system applied on your concrete floor. At Alternative Grinding Solutions we will diamond grind your existing concrete to prep and clean the surface. By grinding the top layer, it allows to expose the rock as little as salt and pepper to full rock. We, then grout the floor filling in any cracks and little holes to give the concrete a smooth finish. A seal coat is then applied over the concrete. The concrete sealant may be solvent polymer base, water base or a reacting polymer that cures when two parts are mix together. Epoxy resin is tough and forms a clear, transparent coat or it may be modified with additives to form an opaque coat with a suitable colour in Gloss or Matt finish. Alternative Grinding Solutions will grind and seal your concrete floors as a more affordable flooring option. The process is also fast due to fewer steps involved. The grind and seal process is a suitable floor option for a variety of industrial and commercial spaces such as Warehouse, Manufacturing, Retail, Animal Care, Shops, Food Service and Garage Floors.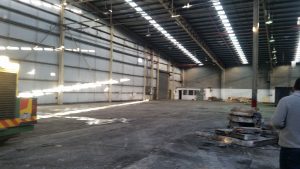 Is there a difference between Sealed and Polished concrete?
Grinding and polishing is more expensive, as the floor surface must be ground with through a succession of finer grits grinding until a desired surface evenness and exposure of underlying stone is achieved. This is followed by a process of application of a chemical densifier. The densifier hardens concrete and also makes it stronger. After this the surface is honed using polishing wheels. Each grind involves an increase in the fineness until the desired smoothness or polish is achieved.  This is then followed by a coat of penetrating sealant. It may be superior and lasting but it is also more expensive. A better, cheaper and just as effective alternative is to option for grind and seal concrete floor. We offer both.
Why Choosing Alternative Grinding Solutions ?
To find out more about our concrete sealing Melbourne services and how our solutions would be great for your needs, contact us today so we can provide with a free quote. Our team of professional experts will always come up with appropriate and efficient solutions. Our extensive experience and values at work, are making us the most trustworthy company to finish the job in no time and the right way. Choose Alternative Grinding Solutions and we will make a difference to your floors ! We take pride in the special care and attention we have when completing a job. If you're looking for reliable and extremely professional grind seal services at a competitive price, give us a call today!
Commonly Asked Questions about Concrete Sealing Services Melbourne
We can pretty much apply our concrete sealing Melbourne services to any surface whether outdoor or indoor. A sealed surface helps in repelling dust and chemicals, as well as protecting the surface
Non Sealed Areas Consequences?
A non sealed surface is more likely to get damaged by various products, traffic, stains, … Sealing concrete will protect your concrete areas for a long time.
Longevity of Grind & Seal?
The sealant is penetrating the concrete areas and will last for a long time. The protection is lasting in between 5 and 20 years depending on the area use.
The sealant used for our concrete sealing Melbourne services is composed of water and solvent. Since the sealant enhance and increase the concrete longevity, it is considered as very environmentally friendly.
Sealant can be applied on cleaned surfaces. In case of grind & seal services, we will grind down the concrete surfaces, high pressure clean it and let the surface dry before sealing. For epoxy based sealant, coatings should be applied only after 28 days of the concrete existence.
How long does it take to dry?
Sealants dry generally pretty quickly within 1-4 hours for penetrating and sealing the concrete surface. However, it is advised not to stand on  the concrete sealing Melbourne areas for up to 2 days after application, depending on the area.
We can service any property in Melbourne and most of Victoria!
Current : Concrete Sealing Services, Grind and Seal Concrete